B&B does not require that your dog attend training classes to become a therapy dog. We just care that you and your dog can pass our test! But if you wonder if your dog is ready, here a few resources to consider.
Dogs that have been trained to be aggressive or who have a "bite history" are prohibited from testing with Bright & Beautiful.  This policy applies to situations involving either other dogs or humans.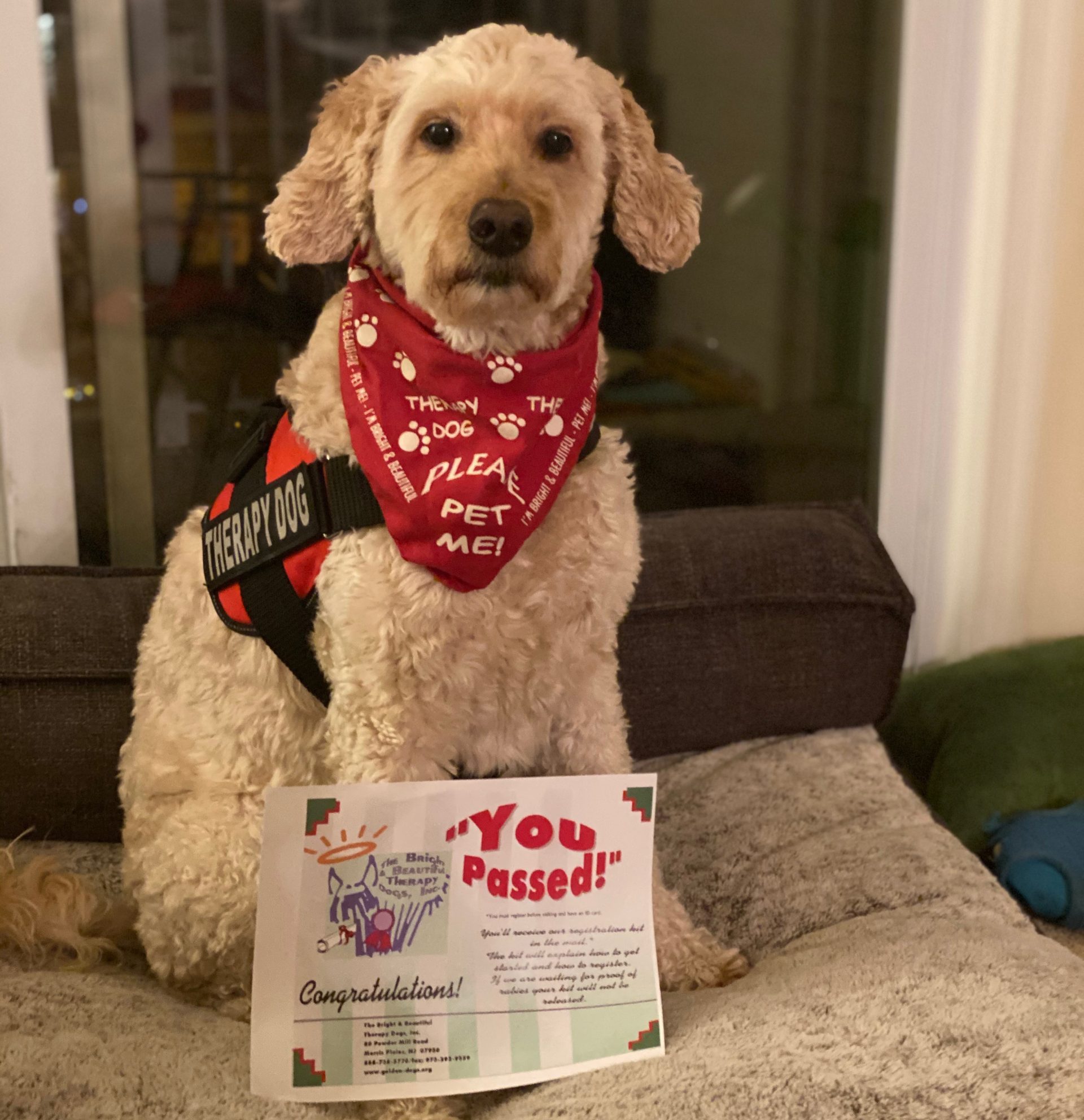 B&B has its own proprietary test that all teams must pass. Click here to see the exercises.
Note: the B&B test is not the same as the American Kennel Club Canine Good Citizen Test ® (CGC). We also offer this test, upon request, for an additional $15 fee. Passing the Canine Good Citizen test is not a requirement for membership with B&BTD.
B&B works with a large network of dog trainers across the country who can work with you and your dog on basic obedience and preparing to pass our therapy dog test.
Get a list of our affiliated trainers, by state:
Get information on classes, from some of our Trainers
B&B works with a network of Evaluators across the country who can oversee the B&B test for you and your dog. Contact whoever is most convenient for you to schedule testing.
View our list of approved Evaluators, by state:
If you are located in or can travel to Northern NJ, we offer a monthly test schedule in a convenient location. Please call our office to register for an appointment.
Consider our Long Distance Certification process if you do not live near an area served by one of our Evaluators.
The Bright & Beautiful Therapy Dogs, Inc.
Info
The Bright & Beautiful Therapy Dogs, Inc. is a non-profit 501 (c) (3) all volunteer organization. We do not accept monetary compensation for our visitation. Testing fees and membership fees are donations and are tax deductible.
Contact Us
80 Powder Mill Road, Morris Plains, NJ 07950
Phone: (973)292-3316
Toll-Free (888) 738-5770
Fax: (973)292-9559
info@golden-dogs.org