Our B&B therapy dog teams are recognized nationwide as having the skill, interest and disposition to provide support to all kinds and all ages of people in need. You and your dog can look forward to putting a smile on someone's face through comfort, affection and calm interactions. And when you are a member in good standing and work as a volunteer, you are covered by our insurance.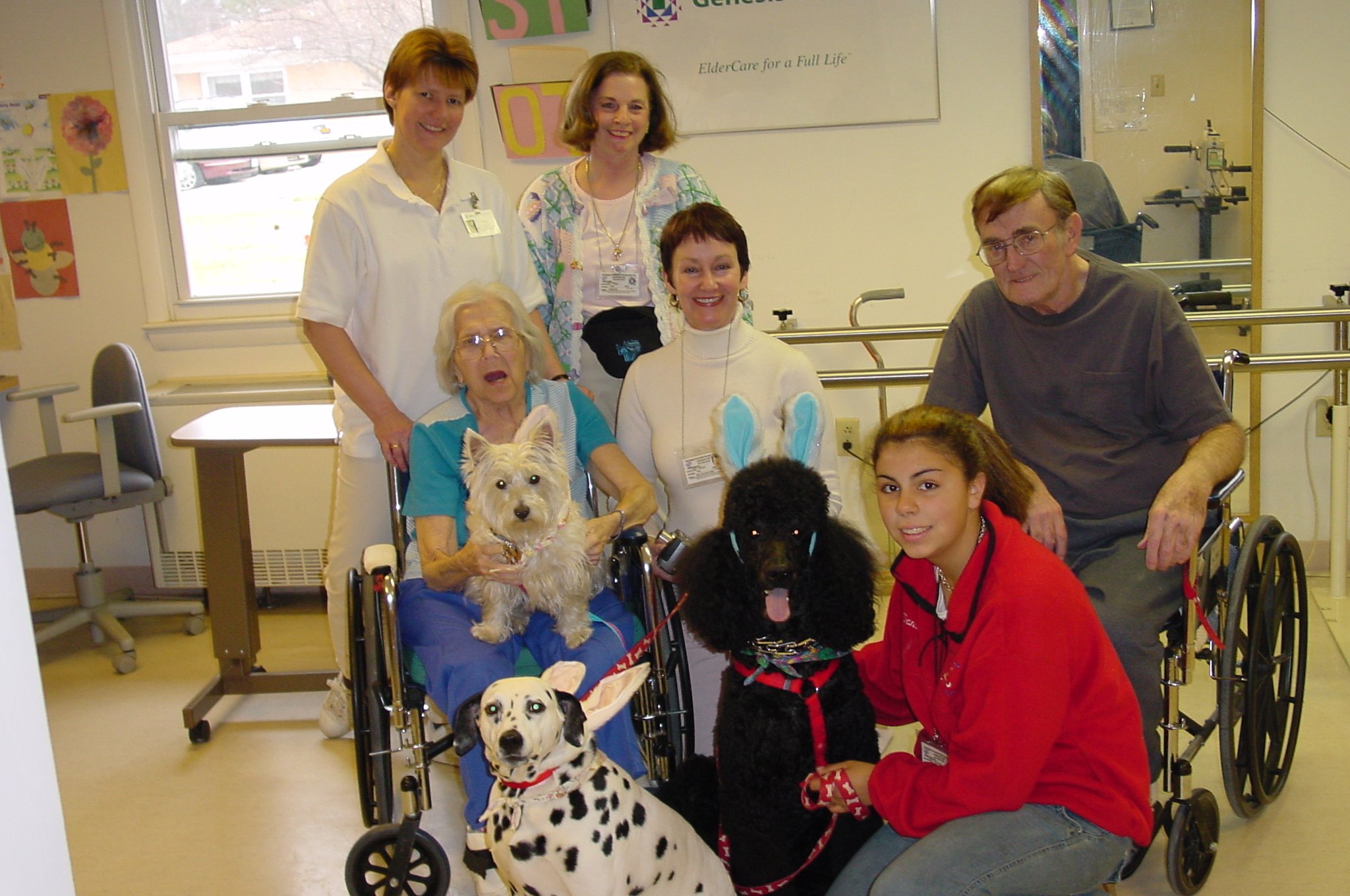 We would love to have you join us!
Handler and Dog Qualifications
Handlers: must be a minimum of 14 years old to go out on a therapy dog visit alone. Handlers younger than 14 may test and join our organization, but must be accompanied by a parent or guardian at all times. All therapy dog teams commit to volunteering at least one hour per month, on behalf of others in need.
Dogs: must be 1 year old, minimum. If the dog is from a rescue organization, the owner/handler must have owned or handled the dog for at least 6 months before testing.
Step 1 – Pass the B&B Therapy Dog Test
The B&B test is a 20-minute process that assesses you and your dog's ability to perform positively in the kinds of situations one may encounter on a therapy dog visit.
Click here to Learn More about Testing
Step 2 – Apply for Membership with B&B
Once you and your dog pass the therapy dog test, your Evaluator will send the test results and fee to Bright & Beautiful. He/she will also guide you through the B&B membership application process.
We require four items from the prospective member: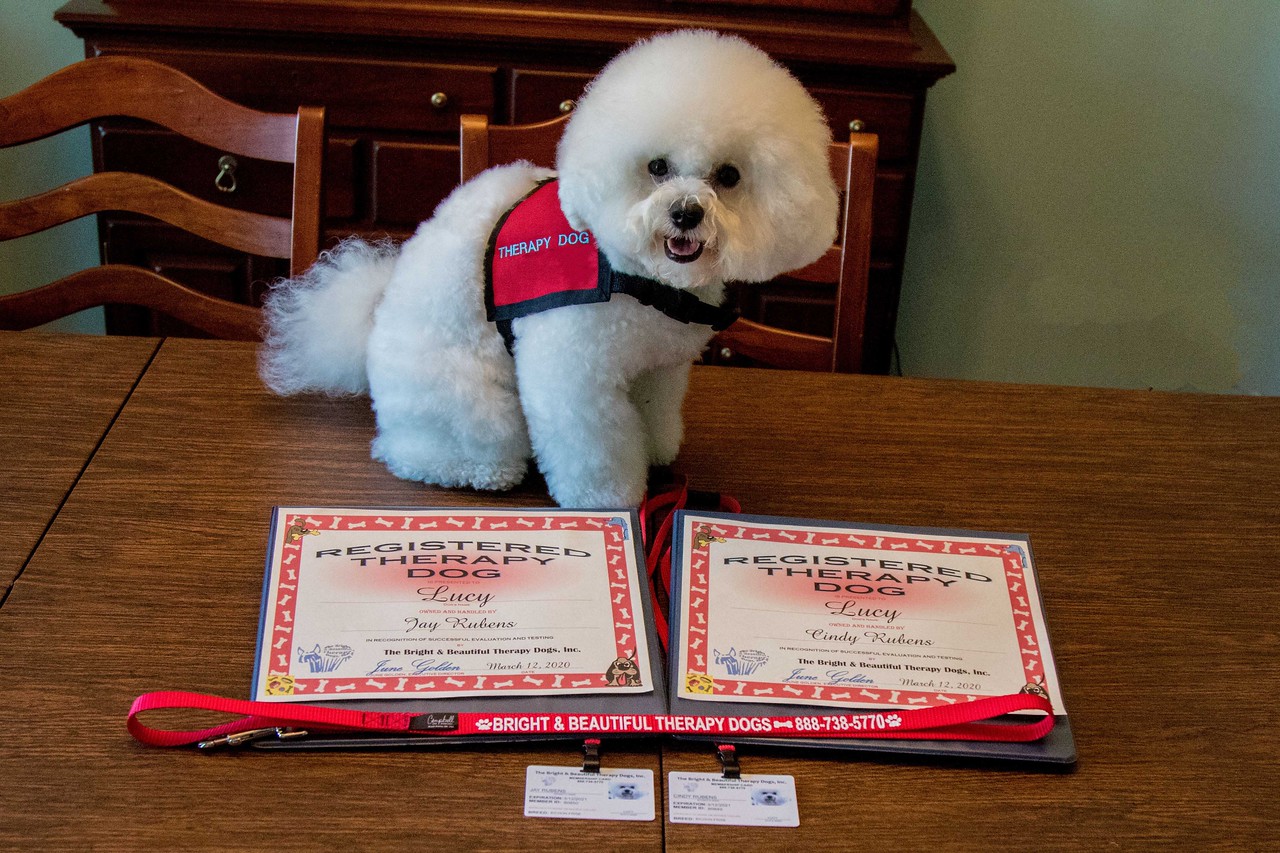 A check, payable to Bright & Beautiful, for the 1st year's membership fee: $50 for the first team, $15 for any additional handlers and/or dogs.
You must complete and sign a membership application; the Evaluator who approved you and your dog as a therapy dog team must sign also. You have one year from the date of your test to apply for membership.
Your veterinarian must complete and sign the Health Certificate. This shows that your dog's vaccines are up to date and has the temperament to be a good therapy dog. Here's a link to our Health Requirements
A headshot photo of your dog (JPG file preferred, no more than 4.5 MB), for the ID badge you wear on therapy dog visits.
We require two items from the B&B Evaluator: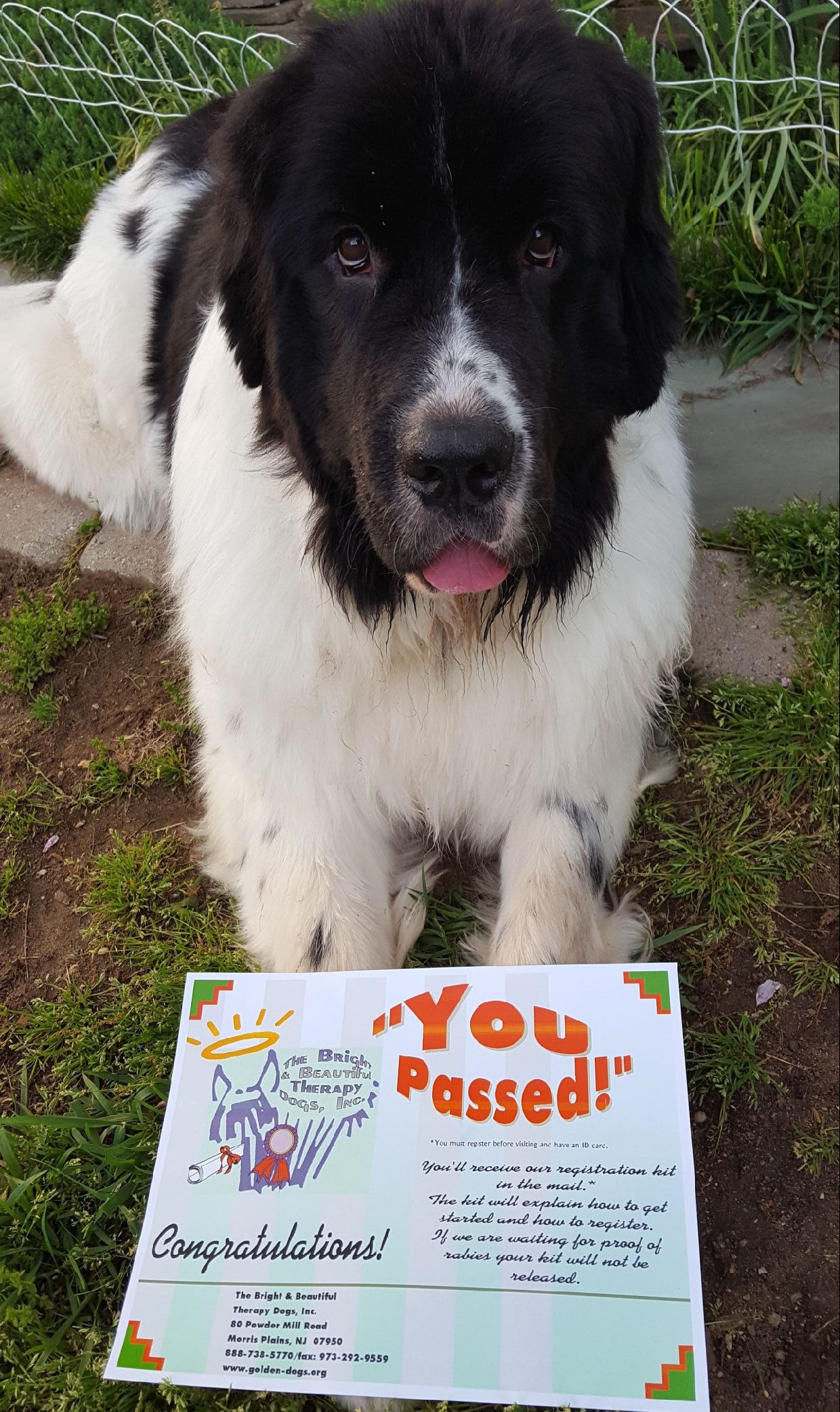 Registration form: the prospective member completes and signs this form when they take the test.
Copy of test results: this is proof that you and your dog passed the B&B test. The results must be signed and dated by the Evaluator.
Final Steps:
Once the B&B Office receives all these items, your membership can be processed! Please note that we must receive hard copies of the membership form and test results, mailed to our office at:
80 Powder Mill Road, Morris Plains, NJ 07950.
Other documents may be sent by email to info@golden-dogs.org or faxed to 973-292-9559.
Shortly after we process your application, you will receive a new member kit in the mail. The kit provides all you need to know to get started as a therapy dog team!
The Bright & Beautiful Therapy Dogs, Inc.
Info
The Bright & Beautiful Therapy Dogs, Inc. is a non-profit 501 (c) (3) all volunteer organization. We do not accept monetary compensation for our visitation. Testing fees and membership fees are donations and are tax deductible.
Contact Us
80 Powder Mill Road, Morris Plains, NJ 07950
Phone: (973)292-3316
Toll-Free (888) 738-5770
Fax: (973)292-9559
info@golden-dogs.org