Benefits of a Pet Therapy Visit
The objective of pet therapy is to provide comfort and pleasure to someone in need. Research has shown that interactions with therapy dogs have significant health benefits and can reduce stress, anxiety and depression as well as provide a sense of connection in difficult situations. The human-animal bond is a strong relationship that positively influences the health and well-being of both.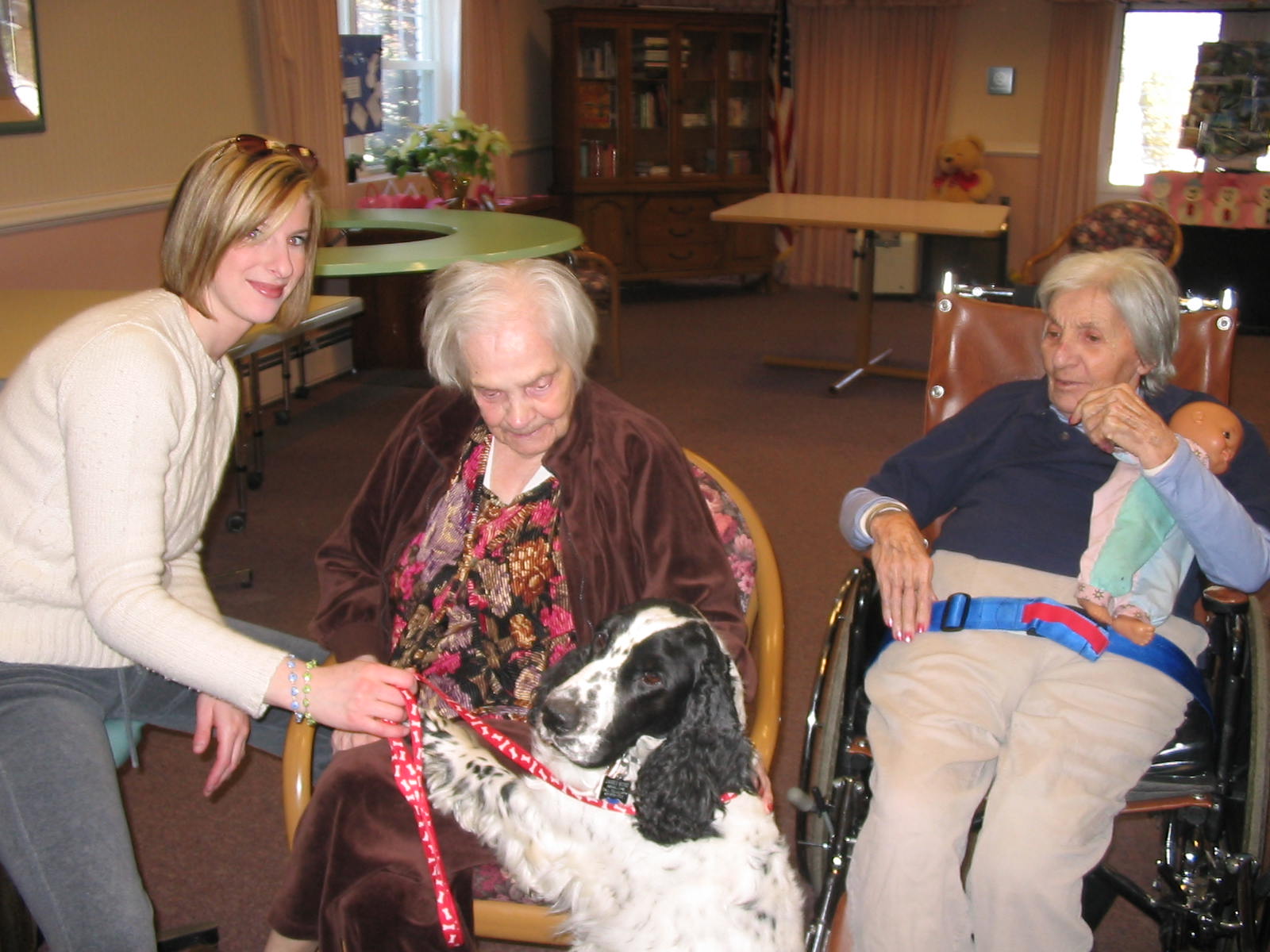 We would love to have our therapy dog teams visit your facility!
Sick or disabled children & adults
Universities, corporations, & fairs
Benefits of Therapy Dogs
A visit from a certified Bright & Beautiful Therapy Dog team can offer tremendous benefits to adults and children of all ages in a wide variety of settings. These benefits include:
Physiological improvements, such as lowering stress and blood pressure. Research shows changes in heart rate and decreases in blood pressure when animals are in the room or when someone is speaking to animals.
Psychological benefits, such as providing a distraction from pain and problems or recreating fond memories. Visiting with animals can help people feel less lonely and depressed. Visits from dogs can provide a welcome change from routine and establish and foster friendships. People become more active and responsive both during and after visiting with animals. Some people in hospitals or group homes have had to give up pet ownership and miss the acceptance a pet gives them. A dog pays little attention to age or physical ability and accepts people as they are. Benefits continue even after the visit. The visit leaves behind memories not only of the visit, but of past experiences.
Easing communication with others. A therapy dog makes it easier for two strangers to communicate. It gives people a common interest and provides a focus for conversation. Evidence has shown that many populations, such as children, the mentally ill, or depressed individuals communicate better with dogs than with people.
Improving skills such as fostering reading abilities in children. Children who are often anxious about their reading skills are shown to improve significantly when they read aloud to a non-judgmental and attentive therapy dog.
Physical improvements, which come from petting or playing with the dog. Petting encourages use of hands and arms, stretching and turning. It often improves movement, balance and strength.
Sharing happiness and laughter. An animal visit can offer entertainment or a welcome distraction from life. People often talk to the dogs and share their thoughts and feelings. Dogs have a way of making people smile and laugh. Animal visits provide something to look forward to.
The Bright & Beautiful Therapy Dogs, Inc.
Info
The Bright & Beautiful Therapy Dogs, Inc. is a non-profit 501 (c) (3) all volunteer organization. We do not accept monetary compensation for our visitation. Testing fees and membership fees are donations and are tax deductible.
Contact Us
80 Powder Mill Road, Morris Plains, NJ 07950
Phone: (973)292-3316
Toll-Free (888) 738-5770
Fax: (973)292-9559
info@golden-dogs.org